Eva Scott
Certified Personal Trainer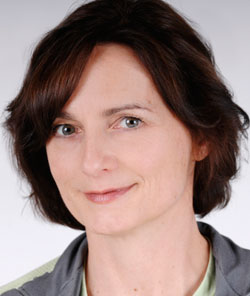 10+ years of training experience
Masters Degree in Exercise Physiology
ACSM Certified Personal Trainer
Jillian Michaels Bodyshred Instructor
CHEK Level 2 Practitioner
CHEK Holistic Lifestyle Coach
Strength Coach Level 1 (Poliquin I.C.P.)
Crossfit: L1 Trainer, Basic Barbell, Mobility, Kids Crossfit
TRX Sports Medicine Suspension Training Course
From Eva: "Before I came to California, I had my own personal training business in Connecticut for 11 years. Among my qualifications as a trainer is an extensive education in the ever-growing health and fitness field, something I implement with all of my clients. I believe in intelligent strength training combined with optimal nutrition and stress management. In order to find the most effective exercises for clients, I perform a combination of movement and posture assessments. This also means building smart ways to train around limitations such as injuries or imbalances. In this way, I design personalized programs that cater to each client's specific needs, as well as offering training in small groups.
My work as a trainer and coach is my passion. I love serving people who want to strive for improvement in their health and fitness. Motivating even those who don't have as much fitness experience or comfort, I connect personally with every client for a customized workout.
Training teenagers has been always fun and rewarding for me. Not every child is participating in organized sports programs, but everybody needs physical fitness. Some of my young clients struggle with diabetes, obesity, A.D.D. and other problems. Finding enjoyment in exercise and feeling better not only physically but also mentally is something that is so important for our kids and that I encourage.
As someone who is patient, enthusiastic, and caring, I work easily with people of all ages and ability levels. I look forward to meeting and training you!"
— Eva
Testimonials:
"I have been training with Eva for about six months. I first came to her because I was diagnosed with RA and was determined to lose weight and build strength. She is an amazing trainer--her programs are completely doable, but she constantly modifies them building upon what we've done, but also making them fun and different (which is great for me as I tend to get bored). She is so knowledgeable about body mechanics, and also diet. Because of my work with Eva, I've lost 35 pounds, am infinitely stronger, and don't have to take any medication for RA anymore. My doctor is so impressed by my progress, and it is due in large part to Eva's training. I'm so grateful to her for helping me get to a better, healthier life."
Sophie
"I found Eva Scott during my on line search for a new personal trainer. The Yelp reviews were very positive as were the testimonials on the website, so I decided to sign up for an initial session to see if she was a good fit for my needs. To say that I am a hard case is an understatement. I have had three rotator cuff surgeries, with the result that one shoulder has a permanent, fairly severe limited range of motion. I also have plantar plate tears in both feet, and am currently recovering from surgery on one of my feet, which is still non-weight bearing. Despite all of these handicaps, Eva has crafted a workout for me that is still challenging. She's also agreed to make special accommodations to come to my house while I recover from my foot surgery since I am unable to drive.
Eva is also so personable, it's a pleasure to be in her company during my workouts. I highly recommend her to anyone looking for a someone who is wel-trained, knowledgeable about and capable of addressing limitations due to prior injuries, and is otherwise an excellent coach and personal trainer."
Thank you, Eva!"
Kim F.
"Eva is amazing. I started working with Eva about 2.5 months ago to help me get back into shape after a ski accident which left me with a torn ACL, a frozen shoulder and a year of basically no exercise. Eva expertly assessed my injuries and has been simultaneously helping me strengthen the muscle groups to help support maximal recovery, while getting me back into shape. Eva is both tough, and fun, her workouts are never boring and she is inspiring. She expertly understands how the body works generally, but is careful to assess personal goals and circumstances to personalize my workout to my specific needs. She really thinks like a scientist!
Every session Eva pushes me to achieve my full potential as she clearly understands the psychology of training. She helps create confidence by starting small, and stepping up as training progresses. She is never pushy, but instead helps hone internal motivation to achieve lasting results. Eva is detail oriented, honest, supportive, motivating, fun and has the knowledge to back it all up. In 2 months I am significantly stronger, have far less pain, my energy has dramatically increased AND even my mother said my posture looks amazing. I can't recommend Eva highly enough."
Sarah A.